The ERC lab (Milstein 102) will be holding walk-in hours and appointments in person for Fall 2021. There will also be some virtual walk-in hours and appointments available for those who are unable to be in person. They will be starting from Tuesday, September 21st. See below for more details on both walk-in hours and appointments!
Staff and Skills
View a list of our staff, organized by skill.
Walk-In Hours
The walk-in hours below will take place over zoom. Use the Meeting ID 703-886-1924 to join or use this zoom link. When you join, you will see a message asking you to wait. Fellows will admit you into the zoom call as soon as they are done with a student.
Please check fellow skillsets above to make sure you attend when a fellow who is familiar with the software you are using is working  If you are not able to attend our walk-in hours, please email erc@barnard.edu to set up an appointment. 
Appointments
To make an appointment with a fellow in the times listed below, please click on the name of the fellow you'd like to meet with: 
Location and Info
The Empirical Reasoning Center is located in Milstein 102. We also have a student staff office in Milstein 101 and our Associate Director's office is Milstein 101A.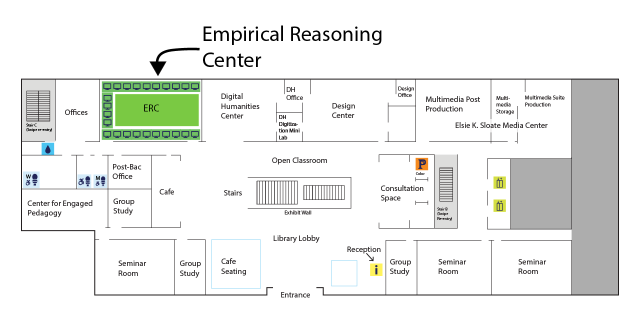 More information about visiting the ERC:
If you're coming for assistance with an assignment, please bring a copy of the assignment as written by your instructor.

If you need help with a dataset, please bring the dataset along with you.  You can bring it on a flash drive or email it to yourself.

We have computers in the ERC with all of the software we support, so you don't need to bring your own laptop - but if you want to, that's fine too!

Columbia College, Columbia Engineering, Columbia School of General Studies, graduate students, faculty members, staff, and alumnae are all welcome to come by and use our help! At times our walk in lab can become very busy. When there are long wait times, we may prioritize Barnard undergraduate students.

Members of the Barnard/CU/TC community are welcome to use the computers in the lab - you do not need to log in with a uni. However, when the walk in lab is busy, we reserve the right to ask those who just want to use a computer to come back at another time.