Walk-In Hours
The walk-in hours below will take place in person or on zoom when indicated. Zoom link: https://columbiauniversity.zoom.us/j/91358949828. Please check fellow skillsets below to make sure you attend walk-in hours when a fellow who is familiar with the software you are using is working. If you are not able to attend our walk-in hours or would like to meet with us virtually, book an appointment or email erc@barnard.edu. 
Appointments
To make an appointment with a fellow, please choose a time listed below with the staff member you'd like to meet with:
Ariana

Title: Postbacc Fellow

Specialties: Excel, Python, QGIS

 

 

Jean

Title: Associate Director

Specialties: Excel, ArcMap, QGIS

Fatima

Title: Senior Associate Director 

Specialties: Excel, R, Python, Stata, ArcMap, QGIS, GeoDa, survey methodology 
If none of the available times work for you, email us at erc@barnard.edu. 
Location and Info
The Empirical Reasoning Center is located in Milstein 102. We also have a student staff office in Milstein 101 and our Associate Director's office is Milstein 101A.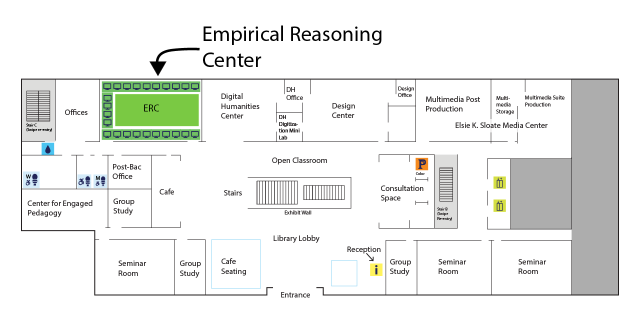 More information about visiting the ERC:
If you're coming for assistance with an assignment, please bring a copy of the assignment as written by your instructor.

If you need help with a dataset, please bring the dataset along with you.  You can bring it on a flash drive or email it to yourself.

We have computers in the ERC with all of the software we support, so you don't need to bring your own laptop - but if you want to, that's fine too!

Columbia College, Columbia Engineering, Columbia School of General Studies, graduate students, faculty members, staff, and alumnae are all welcome to come by and use our help! At times our walk in lab can become very busy. When there are long wait times, we may prioritize Barnard undergraduate students.

Members of the Barnard/CU/TC community are welcome to use the computers in the lab - you do not need to log in with a uni. However, when the walk in lab is busy, we reserve the right to ask those who just want to use a computer to come back at another time.