See below for more info on two of our projects! 
SLAVERY AND RESISTANCE WALKING TOUR
For the past several years, we have organized our summer internship program around a technically challenging task, but one that furthered our Social Justice mission. Fatima (Senior Associate Director) and our student interns produced a digital version of Mariame Kaba's Slavery and Resistance Walking Tour of Lower Manhattan.  (Kaba is an educator and activist, and previously was a fellow at the BCRW Social Justice Institute.)  Fatima and the team selected the topic as a reminder of the enduring legacies of slavery and the resistance struggles of enslaved peoples in the "free" North, not just the "slave" South.  Besides displaying the digital map locating the 21 notable places along the tour path (from Fort Amsterdam at Bowling Green to "The Tombs" -- an early prison complex -- on White Street), the site integrates a variety of historical content (including contemporary maps and other images) to explain the significance of each location.  Fatima and several members of the team (Claire Goldberg from Columbia and Anna Wu from Barnard) presented their project at the 2021 Annual Conference of the North American Cartographic Information Society in a session on historical geography. The Digital Walking Tour was also recognized by the community of Glitch users (a website development company) as the Most Inspiring App built with the Company's tools 2021.  As its CEO observed, the site "gives an essential view into vital history"and is "what technology can be when thoughtfully applied to meaningful purposes."
Image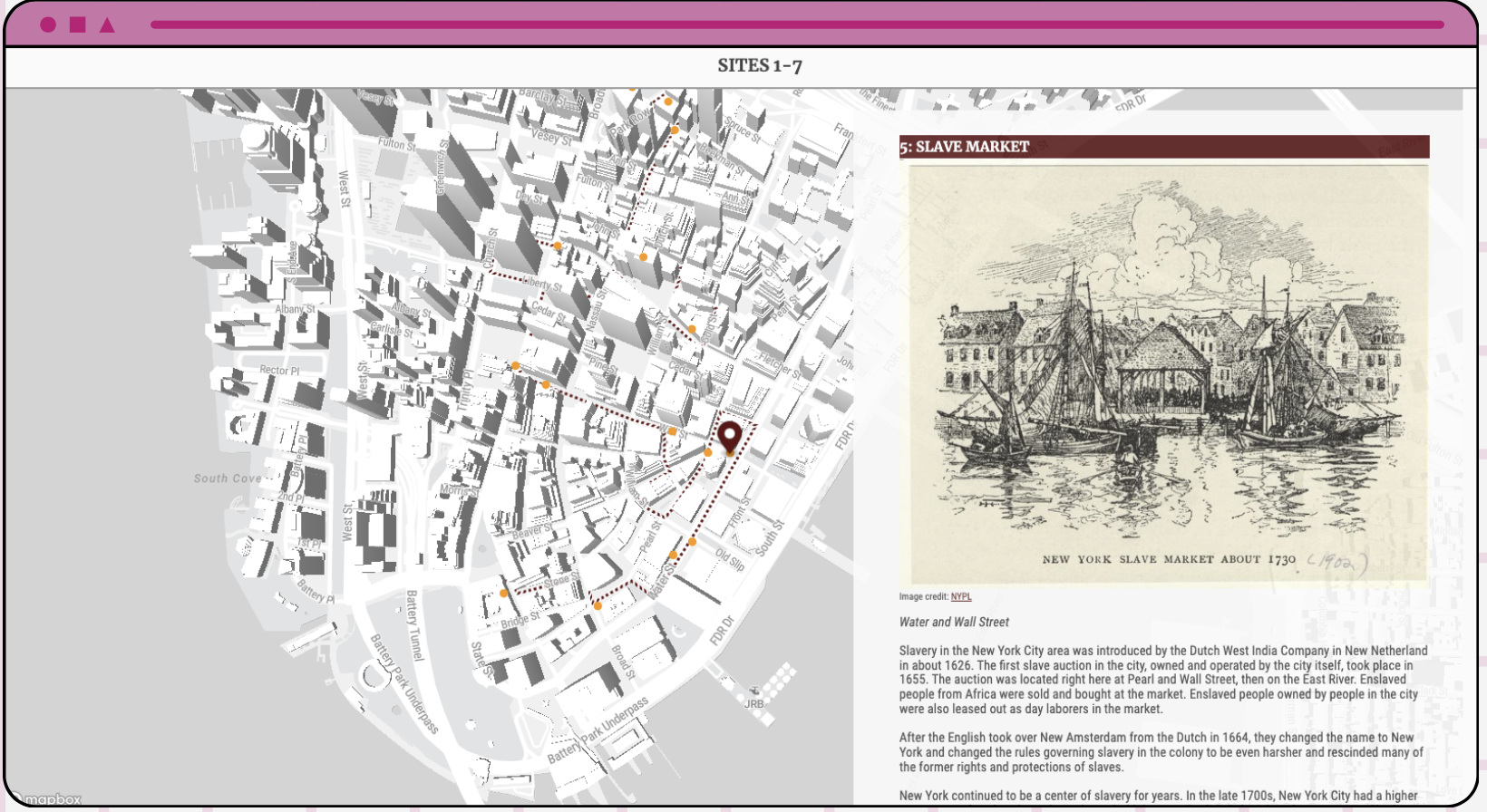 THE MISSISSIPPI PROJECT
We worked with Premilla Nadasen's Mississippi Semester seminar class across two years to develop a women's economic security index for Mississippi and survey child care providers. We held trainings for students on Geographic Information Sciences and on data analysis in Excel. Alisa Rod, former Associate Director, also led workshops on survey methodology. We also worked with students to conduct oral histories of women in Mississippi in partnership with the Mississippi Low Income Child Care Initiative (MLICCI), an advocacy organization of women on welfare and child care providers. Aside from the course, we were also contracted by MLICCI to build an interactive web mapping tool that makes the economic index, maps of census data, and oral histories accessible to the public. Our site is one of the few that applies an intersectional lens to census data and presents a qualitative analysis of the oral histories students collected.